The Steel Block Bandits will return to racing this weekend at Thunder Valley Raceway on Saturday, May 28th. Come see out and see the Bandits battle it out with the best Pennsylvania drivers for a 35-Lap $2000 to win race!

Directions to Central City, PA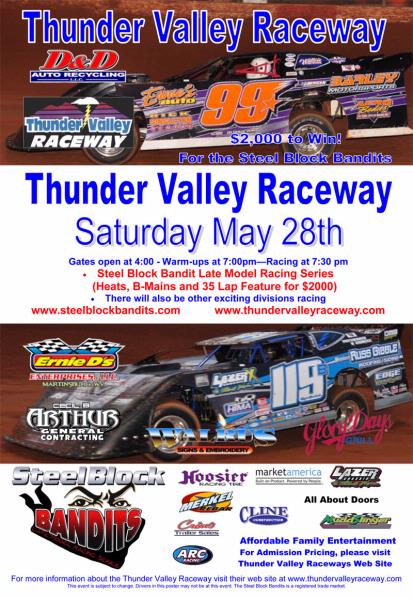 Click here for payout

Erica Miller
Marketing/PR/Special Events Coordinator
Steel Block Bandits
"The REAL Men of STEEL"
http://www.steelblockbandits.com
540-974-3454

Special thanks to the following: Market America, D&D Auto Recycling, Ernie D's Enterprises, Glory Days Grill, Cecil B. Arthur General Contractors, Bernheisel Race Components & Lazer Chassis, WRT & Cliff Dove Motorsports Photography, Revolution Band, Muddslinger Web Services, Walrus Signs & Embroidery, Hoosier Tires, Advanced Race Wear, Crims Trailer Sales, Area Auto Racing News, In the Pits Radio 106.7 The Fan, Go Fast Be Safe, Handy Dans Landscaping, Cline Construction, All About Doors, Merkel Rebar, ARC Race Cars, Cecil B. Arthur Bucking Bulls & Beef Farm and Omps Garage.
Erica Miller
Marketing/PR/Special Event Coordinator
Steel Block Bandits
"The REAL men of Steel"
www.steelblockbandits.com