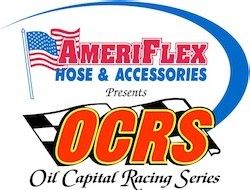 Ameri-Flex / OCRS Sprint Car Season Fires Off This Saturday
First Up: Lawton Speedway
John Lemon
OCRS Public Relations
(Tulsa Okla. April 11, 2017) - It's been a long time since the Ameri-Flex Hose & Accessories / Oil Capital Racing Series sprint cars have hit the racetrack. Come this Saturday night at the Lawton Speedway, it will be 181 days too long since the winged sprint cars have had an opportunity to race in a series event. These wild and unpredictable pilots are at their ready to get back to the battlegrounds where slide jobs, bump & run maneuvers and rim riding risk taking will once again commence.
Race fans, can expect to see some of their favorite drivers in action such as two-time defending series champion Robert Sellers along with feature winners from 2016 such as seven time winner Sheldon Barksdale, Whit Gastineau, Zach Chappell, Shayla Waddell and Johnny 'Hotrod' Kent.
Some of the Lawton Speedway pilots that will be looking to defend their home turf from the invaders include: 2016 speedway champion Kyle Ezell, Joe Lee, Shawn Bloomquist, Jerry Bruner, Morgan Fletcher, T.J Herrell, T.J. Honkomp and Gary Owens who also won an Ameri-Flex / OCRS feature in 2016.
This event will not be without the remembrance of the Godfather of the speedway, Mr. Lanny Edwards as it will be the first time the series has performed on the historic 1/4-mile track since Lanny's passing last fall. Lanny was instrumental in bringing the series to the speedway as an annual attraction for the fans of Lawton and the utmost respect of this special night and well into the future will be given. The speedway has also booked June 3rd and July 29th for the series to grace Lawton soil.
NUTZ n' BOLTZ
Hey Buddy, Can Ya Spare A Buck?
As has been the case the past couple of seasons, the Ameri-Flex / OCRS sprint car series has often offered increased payouts to the competitors of the series. In 2017, practically every event will have additional pay for the teams. Special thanks goes out to Corvan & Logan Robison of Ameri-Flex Hose & Accessories as well as all the promoters of our venues for putting together a great package.
AFC II Qualifying Begins:
This Saturday night not only begins the chase for the 2017 Harold Leep Championship Trophy, it also begins the qualifying process for teams to be a part of Ameri-Flex Challenge II presented by Grand National Trailer. If you have hibernated extra long this off-season, AFC II will be held the Salina Highbanks Speedway on August 26th. The $3,000 to win and $1,000 to start event is open to the top 30 car owners in points providing a minimum of six races have been attended. Complete rules are on the OCRS website.
Long Time Coming:
Wichita Falls Texas gunslinger Brandon Long has been tabbed as the pilot for Andy Voigt's B-52 sprinter for the season opener as Andy's son Brayden will be unavailable to drive this weekend. The last time Long checked into the pits for an Ameri-Flex / OCRS event was July 31, 2015 at the formerly named Red River Speedway (now Wichita Speedway) in Iowa Park Texas. Welcome back Mr. Long.
We Dont Need No Stinking Practice:
Both Lawton Speedway and Creek County Speedway have held events in 2017. In looking at last years Ameri-Flex / OCRS top 10, only two drivers have not competed in a race yet. Sheldon Barksdale and Tim Kent have been laying back and chillin' out. Of the other seven, three have already won features. Robert Sellers took Lawton's season opener last weekend while Johnny Kent captured Creek County laurels. The week before, Alex Sewell won a special non-wing event at creek County.
We Can't Tell Ya:
Ever see that Andy Griffith episode where Opie knows a secret and is just dying to tell Andy but he only says "I Can't Tell Ya" when asked about his excitement? We have that going on now. There will be a very special surprise that will take place at Lawton this Saturday that several people from both sides (grandstands and pits) will find to be extremely cool. We would love nothing more to clue everyone in but we would have to enter the witness protection program if we did. Just come out Saturday and see for yourself how cool this is going to be.
Six slow months have ticked off the calendar and now its time to FEEL the thunder this Saturday night at the Lawton Speedway! Race time is set for 8:30pm. With temperatures forecasted to be in the 70's in the evening, its the perfect time to enjoy an evening out and take in some thrilling racing action. USRA modifieds, limited modifieds and mini stocks will also perform.Here's your need to know facts.
What: Ameri-Flex / OCRS Sprint Cars (with support classes)
When: Saturday April 15, 2017
Where: Lawton Speedway, Lawton, Oklahoma
Time: Pit Gates at 5:00pm / Grandstand gates at 6:00pm / Hot Laps 7:30pm / Races Start at 8:00pm
(Ameri-Flex/OCRS Drivers Meeting @ 6:45pm)
Phone: (580) 355-6417
Website: www.lawtonspeedway.com
Track location:
Take Interstate 44 to Lee Boulevard. Go west onto Lee Boulevard to Sheridan Road. Turn south (left) and go 1.5 miles to the racetrack.
If coming from the south of Lawton:
Exit Highway 36 and take the Faxon exit. Go north onto Sheridan Road. Racetrack will be approx. 5 miles.
About the Ameri-Flex / OCRS Series -
Established in 2002, the Tulsa OK based Ameri-Flex / OCRS series sanctions dirt track sprint car racing in the southern region of the central plains. Fan appeal and quality race teams, combined with our solid core of supporting sponsors are the nucleus of the series. Thrilling competition providing the ultimate quality family entertainment is the essence of what the Ameri-Flex / OCRS series is all about.
Website: www.ocrsracing.net
Facebook: www.facebook.com/oil.series
About Ameri-Flex Hose & Accessories -
Located in Tulsa OK, Ameri-Flex Hose & Accessories is a family owned and operated company. From food grade hose to hoses for the petroleum industry, Ameri-Flex will strive to fill your needs. Ameri-Flex can build a hose to your specifications or they will assist you in creating what you have designed while you wait. Ameri-Flex has several hard to find items that some vendors can't get or find. Product can be shipped quickly and efficiently. If they do not have what you are looking for, they will direct you on where to find it. Give then a try, after all…………..
Ameri-Flex Has The Stuff That Keeps You Going!
Website: www.ameriflexhose.com