FOR IMMEDIATE RELEASE
Honda USAC Western Midget Series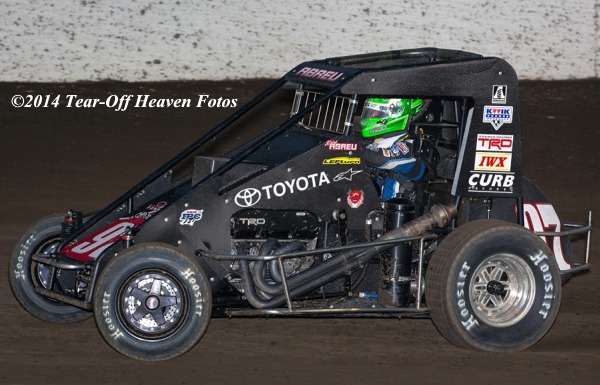 #97 Rico Abreu wins Saturday Calistoga main event. Photo by Steve Lafond / Tear-Off Heaven Fotos.
RICO ABREU WINS SATURDAY $10,000 LVC MIDGET FEATURE AT CALISTOGA
By Lance Jennings
CALISTOGA, CA – SEPTEMBER 2, 2014... Leading the final three laps, Rutherford, California's Rico Abreu won the opening night of the "7th Annual Louie Vermeil Classic." The $10,000 Honda USAC Western Midget triumph at Calistoga Speedway was Abreu's third series victory. Christopher Bell, Tanner Thorson, Shane Golobic, and Ronnie Gardner rounded out the top-five drivers.
Piloting the Kunz/Curb-Agajanian #97 Toyota-TRD Bullet, Rico Abreu set a new track record in VanLare Steering Repair Time Trials, breaking Shannon McQueen's five year old standard. After out-qualifying the other seventeen racers, Abreu ran second to Tanner Thorson in his heat race and was the night's hard charger by taking the win from sixth.
Christopher Bell of Norman, Oklahoma led twenty-one laps of the main event before settling into second. Racing the Kunz/Curb-Agajanian #71 Toyota-TRD Bullet, Bell was second quick in time trials and one of four racers to break McQueen's record. The "Sooner State" driver also won the 8-lap DJ Safety Heat Race #2 before winning the USAC/CRA Sprint feature.
Minden, Nevada's Tanner Thorson scored third in the "Louie Vermeil Classic" preliminary feature. Driving the Kunz/Curb-Agajanian #71 Toyota-TRD Bullet, Thorson completed the team's podium sweep. The USAC National Midget Series regular qualified fourth overall and won the 8-lap Extreme Mufflers Heat Race #1.
Shane Golobic of Fremont, California took fourth in the 30-lap main event at the Napa County Fairgrounds. Piloting Doug Bock's #26 Hubbard Motorsports / Factory Kahne Shocks Spike, Golobic led the first six laps before falling back to fourth. Earlier in the program, the versatile driver was sixth fast in time trials and placed fourth in his heat race.
Norco, California's Ronnie Gardner claimed fifth in Saturday's $10,000-to-win feature. Racing the Six8 Motorsports' #68 Baldozier Racing / Esslinger Engineering Stewart, Gardner qualified third overall and ran second to Cody Swanson in his heat race. The defending champion entered the LVC finale with two feature wins, three VanLare Steering Repair Fast Time Awards, one heat race victory, seven top-10 finishes, and 83 feature laps led.
Cody Swanson of Norco, California raced to victory in the Saldana Racing Products / Pyrotect Racing Cells Heat Race #3. Driving the family owned #71S Marcie Campbell Realtor / Advanced Racing Suspension Spike, Swanson was twelfth quick in time trials scored fifteenth in the feature after an early exit.
The Honda USAC Western Midget Series thanks Hoosier Tire, Competition Suspension Inc., DJ Safety, Extreme Mufflers, Pyrotect Racing Cells, Rugged Radios, Saldana Racing Products, and VanLare Steering Repair for their support. If you or your company would like to become part of the series, email PR Director Lance Jennings at [email protected]
For more information on the Honda USAC Western Midget Series, visit www.usacracing.com or follow the series on Facebook (www.facebook.com/usacwsmidgets), or Twitter (www.twitter.com/USAC_WSMIDGET).
--------------------------------------------------------------
HONDA USAC WESTERN MIDGET DIRT RACE RESULTS:
August 30, 2014 – Calistoga, California – Calistoga Speedway – "Louie Vermeil Classic"
VANLARE STEERING REPAIR TIME TRIALS:
1. Rico Abreu, 97, Kunz/Curb-Agajanian-20.159 (New Track Record); 2. Christopher Bell, 71, Kunz/Curb-Agajanian-20.245; 3. Ronnie Gardner, 68, Six8-20.371; 4. Tanner Thorson, 67, Kunz/Curb-Agajanian-20.416; 5. Michael Pickens, 25, Rodela-20.642; 6. Shane Golobic, 26, Bock-20.705; 7. Trey Marcham, 73, Ford-20.820; 8. Alex Schutte, 28, Schutte/McElwee-21.059; 9. Scott Pierovich, 35, Pierovich-21.084; 10. Taylor Simas, 62, Bock-21.206; 11. Randi Pankratz, 8, Pankratz-21.214; 12. Cody Swanson, 71S, Swanson-21.354; 13. Britton Bock, 67X, Bock-21.464; 14. Johnathon Henry, 17, Nichols-21.656; 15. Brian Gard, 88, Arata-21.748; 16. Jarid Blondel, 98, Blondel-21.817; 17. Lance Hallmark, 8H, Hallmark-22.479; 18. Scott Kinney, 27C, Blackwell-NT.
EXTREME MUFFLERS HEAT RACE #1: (8 laps)
1. Thorson, 2. Abreu, 3. Marcham, 4. Simas, 5. Bock, 6. Blondel. NT
DJ SAFETY HEAT RACE #2: (8 laps)
1. Bell, 2. Pickens, 3. Schutte, 4. Hallmark, 5. Henry, 6. Pankratz. NT
SALDANA RACING PRODUCTS / PYROTECT RACING CELLS HEAT RACE #3: (8 laps)
1. Swanson, 2. Gardner, 3. Pierovich, 4. Golobic, 5. Gard, 6. Kinney. NT
FEATURE: (30 laps – With Starting Positions)
1. Rico Abreu (6th), 2. Christopher Bell (5th), 3. Tanner Thorson (3rd), 4. Shane Golobic (1st), 5. Ronnie Gardner (4th), 6. Michael Pickens (2nd), 7. Alex Schutte (8th), 8. Taylor Simas (10th), 9. Scott Pierovich (9th), 10. Jarid Blondel (15th), 11. Britton Bock (12th), 12. Brian Gard (14th), 13. Lance Hallmark (16th), 14. Trey Marcham (7th), 15. Cody Swanson (11th), 16. Johnathon Henry (13th). NT
----------------------------
*Pankratz flipped during the second heat.
FEATURE LAP LEADERS: Laps 1-6 Golobic, Laps 7-27 Bell, Laps 28-30 Abreu.
HARD CHARGER: Rico Abreu (6th to 1st)