FOR IMMEDIATE RELEASE
Amsoil USAC/CRA Sprint Car Series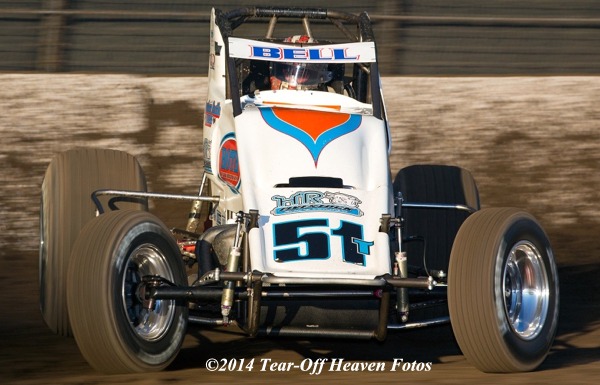 #51T Christopher Bell wins Saturday Calistoga main event. Photo by Steve Lafond / Tear-Off Heaven Fotos.
CHRISTOPHER BELL STRIKES GOLD AT CALISTOGA
By Lance Jennings

CALISTOGA, CA – SEPTEMBER 1, 2014... After electrical issues sidelined Ryan Bernal, Norman, Oklahoma's Christopher Bell won the opening night of the "7th Annual Louie Vermeil Classic." Saturday's $5,000 Amsoil USAC/CRA Sprint Car triumph at Calistoga Speedway was Bell's first series win. "The Demon" Damion Gardner, Rico Abreu, Brody Roa, and "The Madman" Robert Ballou followed Bell to the checkered flags.
Outside front row starter Mike Spencer led the first ten circuits before Bernal took command. Looking for his first win of the season, the defending USAC Western Classic Champion led until Bell grabbed the top spot on lap fourteen. Bernal regained the lead and set to run away from the field until action was halted for a Bud Kaeding flip. Ryan's car failed to restart and Bell took over and claimed the Calistoga win in his first USAC/CRA start.
Racing Dennis Roth's #51T Roth Enterprises / Revcon Suspension KPC, Christopher Bell qualified third overall out of the twenty-five racers in the pit area. The USAC Midget veteran ran fourth in his heat race before giving Roth his third USAC/CRA win as a car owner.
Concord, California's "The Demon" Damion Gardner claimed second in the 30-lap feature. Driving Mark Alexander's #4 Scott Sales Company / J&D Performance Spike, Gardner earned his 58th career Woodland Auto Display Fast Time Award and won the 8-lap Extreme Mufflers Heat Race #1. Heading to the Sunday LVC finale, the point leader has seven feature wins, five Woodland Auto Display Fast Time Awards, twelve top-10 finishes, and 154 feature laps led.
In his first non-wing start, Rico Abreu of Rutherford, California charged to third at Calistoga Speedway after starting ninth. Piloting his #24 Abreu Vineyards / Stadelhofer Construction machine, Abreu was ninth fast in time trials and ran second to Robert Ballou in his heat race. Rico also won the companion $10,000 USAC Western Midget feature.
Huntington Beach, California's Brody Roa took fourth in the Saturday night feature after starting seventh. Racing the BR Performance #91R HD Industries / Burris Racing Maxim, Roa qualified seventh overall and ran second to Damion Gardner in his heat race. To date, the former Wagsdash Champion has five heat race victories, one Competition Suspension Inc. / Rod End Supply Semi-Main win, one Keizer Wheels / Racing Optics Hard Charger Award, and eight top-10 finishes in 2014.
Driving Keith Ford's #73 Berry Pack / King Racing Products Spike, "The Madman" Robert Ballou of Rocklin, California stormed to fifth at Calistoga from twelfth. Ballou was twelfth quick in time trials and won the 8-lap Saldana Racing Products / Circle Track Performance Heat Race #3. In two starts, Kevin has two top-10 finishes.
Sebastopol, California's Bradley Terrell earned the night's Keizer Wheels / Racing Optics "Hard Charger / Best Passing Job" with a tenth place run from twentieth. Piloting the family owned #43 Millhouse Glass / Papa Enterprises A.R.T., Terrell qualified twentieth, ran seventh in his heat race, and was the highest finishing 360 in the main event.
Kevin Thomas Jr. of Cullman, Alabama took the victory in the 8-lap DJ Safety Heat Race #2. Racing Keith Ford's #73X Berry Pack / King Racing Products Spike, Thomas was eighth fast in time trials and placed seventh in the main event.
To catch all of the action of the Amsoil USAC/CRA Sprint Car Series, Loudpedal Productions has DVD videos available for purchase. For more information, call (805) 407-7229 or visit www.loudpedalvideo.com.
The Amsoil USAC/CRA Sprint Car Series thanks Hoosier Tire, Circle Track Performance, Competition Suspension Inc., DJ Safety, Engler Machine & Tool, Extreme Mufflers, Huntington Beach Glass & Mirror, Keizer Wheels, Pyrotect Racing Cells, Racing Optics, Rod End Supply, Rugged Radios, Saldana Racing Products, Weld Racing, and Woodland Auto Display for their support. If you or your company would like to become part of the series, email PR Director Lance Jennings at [email protected]
For more information on the Amsoil USAC/CRA Sprint Car Series, visit www.usacracing.com or follow the series on Facebook (www.facebook.com/pages/USAC-CRA-Sprint-Car-Series/167535183297971) or Twitter (www.twitter.com/USAC_CRA).
-----------------------------------------------
AMSOIL USAC/CRA SPRINT CAR RACE RESULTS:
August 30, 2014 – Calistoga, California – Calistoga Speedway - "California Sprint Week" / "Louie Vermeil Classic"
WOODLAND AUTO DISPLAY TIME TRIALS:
1. Damion Gardner, 4, Alexander-19.453; 2. Matt Mitchell, 37, Mitchell-19.802; 3. Christopher Bell, 51T, Roth-20.003; 4. Jake Swanson, 92, Sertich-20.042; 5. Mike Spencer, 50, Chaffin-20.085; 6. Ryan Bernal, 56, Phulps-20.101; 7. Brody Roa, 91R, BR-20.187; 8. Kevin Thomas Jr., 73X, Ford-20.344; 9. Rico Abreu, 24, Abreu-20.364; 10. Geoff Ensign, 3F, Finkenbinder-20.401; 11. Bud Kaeding, 24, Bowman-20.409; 12. Robert Ballou, 73, Ford-20.421; 13. Colby Copeland, 5V, VanLare-20.580; 14. D.J. Johnson, 33, Johnson-20.603; 15. Tim Barber, 3T, Finkenbinder-20.737; 16. Cody Williams, 44, Jory-20.810; 17. Scott Hall, 77J, Campanile-20.891; 18. Austin Williams, 2, Jory-20.943; 19. Marty Hawkins, 3M, Hawkins-21.131; 20. Bradley Terrell, 43, Terrell-21.159; 21. Terry Schank, 1, Gleeson-21.183; 22. Logan Williams, 5, Jory-21.638; 23. Adam Brenton, 28, Brenton-21.645; 24. Trevor Schmid, 2X, Schmid-21.739; 25. Chris Gansen, 4G, Gansen-21.950.
EXTREME MUFFLERS HEAT RACE #1: (8 laps)
1. Gardner, 2. Roa, 3. Swanson, 4. C.Williams, 5. Copeland, 6. Ensign, 7. Hawkins, 8. L.Williams, 9. Gansen. NT

DJ SAFETY HEAT RACE #2: (8 laps)
1. Thomas, 2. Spencer, 3. Mitchell, 4. Kaeding, 5. Johnson, 6. Hall, 7. Terrell, 8. Brenton. NT

SALDANA RACING PRODUCTS / CIRCLE TRACK PERFORMANCE HEAT RACE #3: (8 laps)
1. Ballou, 2. Abreu, 3. Bernal, 4. Bell, 5. A.Williams, 6. Barber, 7. Schank, 8. Schmid. NT
FEATURE: (30 laps – With Starting Positions)
1. Christopher Bell (4th), 2. Damion Gardner (6th), 3. Rico Abreu (9th), 4. Brody Roa (7th), 5. Robert Ballou (12th), 6. Matt Mitchell (5th), 7. Kevin Thomas Jr. (8th), 8. Mike Spencer (2nd), 9. Colby Copeland (13th), 10. Bradley Terrell (20th), 11. Cody Williams (16th), 12. D.J. Johnson (14th), 13. Tim Barber (15th), 14. Austin Williams (18th), 15. Logan Williams (22nd), 16. Terry Schank (21st), 17. Chris Gansen (25th), 18. Jake Swanson (3rd), 19. Adam Brenton (23rd), 20. Ryan Bernal (1st), 21. Bud Kaeding (11th), 22. Geoff Ensign (10th), 23. Scott Hall (17th), 24. Marty Hawkins (19th), 25. Trevor Schmid (24th). NT
---------------------------
**Kaeding flipped during the feature.
FEATURE LAP LEADERS: Laps 1-10 Spencer, Laps 11-13 Bernal, Lap 14 Bell, Laps 15-23 Bernal, Laps 24-30 Bell.
KEIZER WHEELS / RACING OPTICS HARD CHARGER: Bradley Terrell (20th to 10th)