Kerry Madsen – Set to race "Down Under"!
(Bill W) February 21, 2013 – Kerry Madsen and the Keneric Racing #29 team are set to compete in four races in Western Australia. The races will conveniently occur between the World of Outlaws season opener in Florida and the start of the Californian swing in Las Vegas. The St. Mary's, New South Wales driver and the experienced Shane Bowers (who will be crew chief while in Australia) will both be making the trip over.
Owners, Bob and Peter Gavranich are excited to be bringing Kerry back to Western Australia for these events. The team will utilize their 2012 World of Outlaws package, including Morrison Racing Engines, KPC chassis and Integra Shocks.
Kerry will compete in the final weekend of competition for the World Series Sprintcars to be held at the Perth Motorplex on Friday 22nd February and Saturday 23rd February. He will also compete in the Krikke Boys Shootout on Saturday 2nd March and Sunday 3rd March at Bunbury Speedway.
Owner Peter Gavranich has this to say "Due to the sixteen day break between the end of Florida and the start of the California swing in Las Vegas, there was a window of opportunity for Kerry to come back to Australia and race these four races. We would have loved to have raced more races in Australia this summer, but the financial commitment we have made to race in the USA has taken priority over racing in Australia. We are excited to be bringing one of Australia's best back to race in W.A.!"
(Kerry Madsen) - "For us to come down there and compete in the hometown (Perth) of Bob and Pete Gavranich in these 4 races is awesome. I'm excited about it. The 'Krikke Boys' race is easily the biggest race in Western Australia. I'm definitely excited to be able to compete in Australia with the equipment that we ran with the World of Outlaws last season. The 2013 Outlaws schedule fell just right for us to compete in these four events."
The preparation in the States for the ambitious 90-event World of Outlaws schedule has been intense this winter. Rob Hart, Shane Bowers and Rod Laraway have been working hard in the off-season getting the Keneric Racing #29 team ready to roll. This will be the second full year on the tour for the team.
Keneric Racing would like to thank their major sponsor Earthex Logistics. A special thanks goes out to "The Don" Des Johnstone and "the Silver Fox" Murray Lumsden who are once again onboard with Keneric Racing for the 2013 World Of Outlaws season.
Follow Keneric Racing & Kerry Madsen on Facebook and Twitter!
Keneric Racing
www.KenericRacing.com
http://www.facebook.com/kenericracing
http://twitter.com/kenericracing
Kerry Madsen
http://www.facebook.com/pages/Official-Fan-Page-for-Kerry-Madsen/101145169933686
http://twitter.com/kmr29
To receive Kerry's Releases, send an e-mail to [email protected] This e-mail address is being protected from spambots. You need JavaScript enabled to view it with "Madsen" in the subject line!
Kerry Madsen (KMR) Bob & Peter Gavranich (Keneric Racing)
Earthex (Des Johnstone & Murray Lumsden) Morrison Motors (Brian Morrison) KPC Chassis (Steve Kent)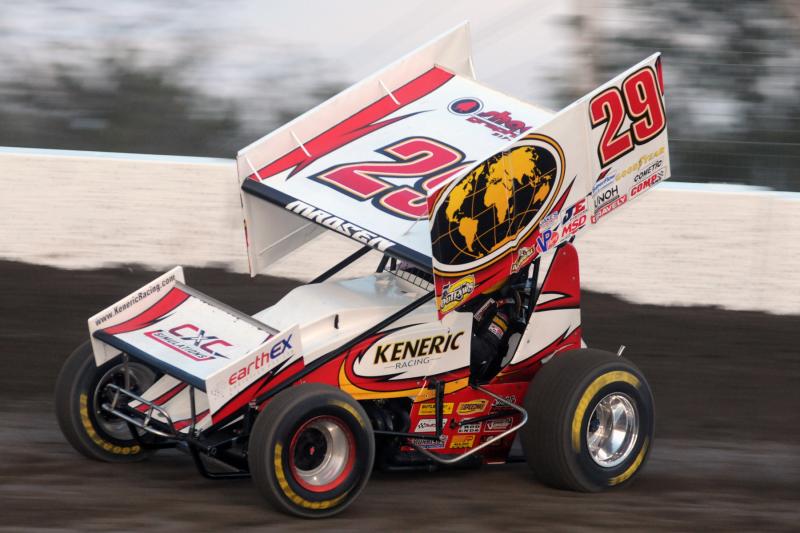 (Jeff Bylsma Photo)
Bill W Media
Monroe, IA USA
Twitter: @BillWMedia
[email protected]
If this post isn't results, stories or something c
constructive, it isn't me! 
@BillWMedia
www.OpenWheel101.com