FOR IMMEDIATE RELEASE
USAC Western Classic Racing Series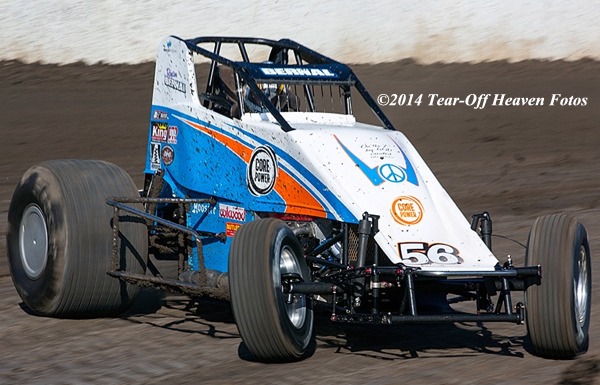 #56 Ryan Bernal –USAC Western Classic Point Leader. Photo by Steve Lafond / Tear-Off Heaven Fotos.
BERNAL LEADS USAC WESTERN CLASSIC SPRINTS TO WATSONVILLE & CHOWCHILLA
By Lance Jennings
SANTA MARIA, CA – AUGUST 5, 2014... After a break in the schedule, the USAC Western Classic Racing Series (WCRS) is set clash with the USAC West Coast Sprints in a special doubleheader. This Friday, August 8th, the traditional sprints will invade John Prentice's Ocean Speedway in Watsonville. The following night, both groups will make their debut at Jack Stanford's Chowchilla Raceway.
NOTICE TO RACERS: Watsonville's Ocean Speedway has a strict 90db at 100 feet state mandated sound rule and the Flowmaster "Suitcase" (Part 53545-USAC) is the track legal muffler. If the sound levels are broken, the racer will be disqualified and not allowed to compete. Per USAC Western Classic and West Coast rules, all fuel-injected 360s must run the Hoosier 105/16 Medium Right Rear Tire and all four corners must be Hoosier. Carbureted spec sprints (with starter) are welcome to compete and use their track legal Hoosier tires. Cockpit adjustable shocks are NOT allowed and engine restrictor rules are 1-7/8" with open heads and 2-3/16" with ASCS Spec legal cylinder heads. The weight rule is 1,475 lbs. with driver and one-way radios are mandatory. There is a $35 entry fee to all competitors. The USAC Western Classic Sprint Car Rule Book can be found online at www.usacracing.com.
Friday's show at Watsonville will be the second appearance of the Western Classic Sprints at the Santa Cruz County Fairgrounds. Heading into the event, the popular 1/4-mile oval has hosted the WCRS (including USAC/CRA co-sanctioned races) on ten occasions and Ryan Bernal leads all drivers with three wins. Bernal also claimed the May 16th race and Markus Niemela set a new qualifying track record of 12.979. Friday's "Night at the races with the Alisa Ann Ruch Burn Foundation" will also showcase American Stocks, IMCA Modifieds, and IMCA Sport Mods. The Pit Gates will open at 1:00pm, Spectator Gates will open at 4:30pm, Drivers Meeting at 4:30pm, with Racing scheduled for 6:00pm.
After losing two shows to rain and another to a cancellation, Saturday's debut at the Chowchilla Fairgrounds will be the sixth point race of the season. While new to both groups, the semi-banked 3/8-mile oval has hosted sprint cars in the past. Chowchilla Raceway has featured Bandits, SCRA 360s, Wingless Spec Sprints, winged 360s, winged 410s, and open competition shows. On Saturday, the popular Hobby Stocks will share the spotlight as the Gates will open at 2:00pm with Racing scheduled for 7:00pm.
Entering the Watsonville-Chowchilla doubleheader, Hollister's Ryan Bernal has a sixty-six point lead over the competition. Racing Mike Phulps' #56 Core Power / Metal Works ART, Bernal won three of the four WCRS races and had his streak of five consecutive West Coast triumphs end at Ventura on July 19th. The defending champion also has one Woodland Auto Display Fast Time Award, one heat race victory, and 42 feature laps led to his credit. Ryan will be looking to continue his championship bid with victories at Watsonville and Chowchilla.
Matt Mitchell of Yorba Linda is second in the USAC Western Classic point chase. Piloting his #37 MPD Racing / ART Enterprises Maxim, Mitchell claimed fourth in the last WCRS race at Tulare on May 17th. Heading to Ocean Speedway, the USAC/CRA standout has one heat race victory, one Competition Suspension Inc. / Rod End Supply Semi-Main win, two Keizer Wheels / Racing Optics Hard Charger Awards and four top-10 finishes on the season. Matt will have his sights on gaining valuable points on Bernal with Watsonville and Chowchilla main event wins.
Huntington Beach's Nic Faas sits third in the WCRS point standings. Driving Keith Ford's #73X Berry Pack / King Racing Products Spike, Faas led laps 23 and 24 at Tulare before suffering a flat tire and scoring sixteenth. The former USAC Western Midget Champion won the April 5th season opener at Calistoga with three top-10 finishes and 22 feature laps led on the year. Faas has missed several USAC West Coast shows and may skip the Watsonville and Chowchilla doubleheader.
Jace Vander Weerd of Visalia is fourth in the championship points. Piloting the family owned #88 Vander Weerd Construction / Battery Works Maxim, the 2010 USAC/CRA Rookie of the Year charged to fifth at Tulare after starting twelfth. Currently, Vander Weerd has three top-10 finishes in the campaign. Jace will be looking to sweep the doubleheader and add more trophies to his collection.
Visalia's Richard Vander Weerd is currently fifth in the point chase. Racing the family owned #10 Vander Weerd Construction / Battery Works Maxim, the 2011 USAC West Coast Champion scored fifteenth at Tulare's Thunderbowl Raceway. To date, Vander Weerd has one heat race victory, one Keizer Wheels / Racing Optics Hard Charger Award, and two top-10 finishes to his credit. Richard will have his sights on the $1,500 paydays at Watsonville and Chowchilla.
Among the other drivers expected to be in action are D.J. Johnson, Marty Hawkins, "Shifter" Landon Hurst, "The Human Highlight Reel" Geoff Ensign, Markus Niemela, Scott Hall, Austin Liggett, "Hollywood" Danny Faria Jr., Terry Schank Jr., Jeff Sibley, Austin Stone, Jim Richardson, and more.
Currently eleventh in the standings, Stockton's Trevor Schmid leads the chase for Rookie of the Year honors. Santa Rosa's Scotty Dupont and Bakersfield's Johnny White are also in contention.
Markus Niemela of Rauma, Finland leads the USAC West Coast point standings. Matt Mitchell, Troy Rutherford, Jace Vander Weerd, Richard Vander Weerd, Ryan Bernal, "Hollywood" Danny Faria Jr., Austin Liggett, Dennis Howell, and Nic Faas round out the top-10 drivers. Other West Coast drivers expected to compete are Kevin Barnes, "The Wild Child" Chris Ennis, Matt Day, T.J. Smith, Jonathan Logan, Connor Kassik, Max Adams, and more.
Ocean Speedway is located on the Santa Cruz County Fairgrounds in Watsonville, California at 2601 E. Lake Avenue. Adult Tickets are $20, Senior Tickets (over 65) are $19, Kids Tickets (12-6) are $13, Children (5 and under) are FREE. For more information, visit the track's website at www.oceanspeedway.com or call 831.662.9466 (WINN).
Chowchilla Raceway is located at the Chowchilla Fairgrounds in Chowchilla, California at 1000 South 3rd Street. For more event information, visit the track's Facebook page at www.facebook.com/ChowchillaRaceway.
The USAC Western Classic Racing Series thanks Amsoil, Hoosier Tire, Chris Kearns Presents, Competition Suspension Inc., Deist Safety, Engler Machine & Tool, Extreme Mufflers, Keizer Wheels, Pyrotect Racing Cells, Racing Optics, Rod End Supply, Rugged Radios, Saldana Racing Products, VanLare Steering Repair, and Woodland Auto Display for their support. If you or your company would like to become part of the series, email PR Director Lance Jennings at lwjennings@earthlink.net.
For more information on the USAC Western Classic Racing Series, visit www.usacracing.com, follow the series on Facebook (www.facebook.com/WesternClassicSprints), or Twitter (www.twitter.com/USAC_WCRS).
-----------------------------------------------
WATSONVILLE USAC WESTERN CLASSIC SPRINT CAR WINS:
3-Ryan Bernal, 2-Mike Spencer, 1-Damion Gardner, 1-Marty Hawkins, 1-Brent Kaeding, 1-Bud Kaeding, 1-Cory Kruseman.
USAC WESTERN CLASSIC SPRINT POINT STANDINGS:
1. Ryan Bernal-268, 2. Matt Mitchell-202, 3. Nic Faas-201, 4. Jace Vander Weerd-186, 5. Richard Vander Weerd-180, 6. D.J. Johnson-173, 7. Marty Hawkins-165, 8. Landon Hurst-147, 9. Geoff Ensign-130, 10. Markus Niemela-128, 11. Trevor Schmid-118, 12. Scott Hall-116, 13. Austin Liggett-107, 14. Danny Faria Jr.-98, 15. Terry Schank Jr.-84, 16. Dennis Howell-82, 17. Troy Rutherford-77, 18. Bud Kaeding-58, 19. Jeff Sibley-51, 20. Austin Stone-43.
USAC WEST COAST SPRINT POINT STANDINGS:
1-Markus Niemela-548, 2-Matt Mitchell-528, 3-Troy Rutherford-500, 4-Jace Vander Weerd-436, 5-Richard Vander Weerd-423, 6-Ryan Bernal-421, 7-Danny Faria Jr.-412, 8-Austin Liggett-408, 9-Dennis Howell-399, 10-Nic Faas-342, 11-Landon Hurst-325, 12-Kevin Barnes-231, 13-Marty Hawkins-207, 14-Bud Kaeding-180, 15-Chris Ennis-154, 16-Garrett Long-153, 17-Michael Pickens-150, 18-Jeff Sibley-133, 19-Trent Carter-121, 20-Matt Day-115.
2014 USAC WESTERN CLASSIC SPRINT CAR SERIES SCHEDULE
DATE - TRACK - LOCATION
August 8: *Ocean Speedway - Watsonville, CA
August 9: *Chowchilla Raceway - Chowchilla, CA
September 20: Marysville Raceway Park - Marysville, CA
October 4: Petaluma Speedway - Petaluma, CA
-----------------------------------------------
* = Co-Sanctioned Event with USAC West Coast Sprints.
This schedule is subject to change.