Wednesdays with Wayne – Jackson and Knoxville Next for the WoO and Wayne!
(Bill W) June 12, 2014 – It will be another weekend with the World of Outlaws for the Wayne Johnson Racing #77x team. The team heads to Jackson, Minnesota on Friday and Knoxville, Iowa on Saturday this weekend. Last weekend, Wayne suffered a pair of DNF's racing with the WoO at I-80 Speedway near Greenwood, Nebraska on Friday and the Lakeside Speedway near Kansas City, Kansas Saturday.
Wayne would time in 23rd quick at I-80. "We didn't qualify well," he admits. "We had a motor issue. It was just getting tired. We were trying to squeak another night out of it. So we changed motors before the heat race."
After finishing seventh in his heat with the new power plant, Wayne started third in the B and won going away. That set him up for a starting spot in row ten for the feature. "The car felt about as good as I've felt in a while in the B," he says. "In the feature, we were decent. I think we were up to fourteenth or so from nineteenth. With two to go, the car blew the U-joint out of it."
The Knoxville, Iowa driver and the team headed for Kansas City, where the race was run despite heavy morning rainfall. "We were able to get everything fixed for Lakeside," says Wayne. "We didn't do much better in qualifying (18th) though."
He would finish sixth in the heat, while battling a tight racecar. "We weren't able to get the car freed up all night long," says Wayne. "The track was really sticky and we were really tight. Hot lapping before the heat race, I got into the corner and about tipped it over the right front."
Starting 18th, Wayne would officially register a 16th place finish in the main event. "We freed it up even more for the feature, but it still wasn't enough," he says. "I made six or seven laps and pulled it in."
Wayne has experienced success at both of last weekend's tracks, but conditions were different this time around. "When we won there a couple of years ago (Lakeside), it was slicker than slick," he says. "When we got there Saturday, it had dried up. But after they put water on it, it took a long time to get rolled in."
Take Advantage of Wayne's Deals on Apparel!
New Wayne Johnson Racing #77x t-shirts and sweatshirts are in! With any purchase of this year's apparel, you can get a free t-shirt from 2013 while sizes and supplies last!
Follow Updates on Facebook!
Wayne will update as his race night commences at his Facebook page. Find it by searching for Wayne Johnson Racing or clicking the following link…
http://www.facebook.com/#!/WayneJohnsonRacing
Outlaw Wings – "The Wing with an Attitude"
Check out the new "recessed rivet" design put out by Outlaw Wings. Talk to Wayne about purchasing Outlaw Wings for your car! Outlaw Wings – "The Wing with an Attitude"!
Wayne's Fast Facts
Wayne won the prelim at the Jackson Nationals on August 15, 2008. Having had to go through the B, he started 18th in the feature, and was third by the fourth lap. He took the lead on lap nineteen. Jake Peters was second, ahead of Billy Alley, Gregg Bakker and Travis Whitney.
Partner of the Week – Xtreme Accu-tach
Know how your engine is performing with Xtreme Accu-tach!
When the display button is pushed after your last race, the Accu-Tach will display four numbers:
1st number is the highest RPM turned in the last race
2nd number is the low average RPM turned in the last race
3rd number is the high average RPM turned in the last race
4th number is the time in seconds your engine took to rev from your low average RPM to your high average RPM
The display button has three different functions:
Starts the display cycle of highest RPM, average low RPM, average high RPM and ramp time
Resets any stored information if held for more than five seconds
Displays the engine's current RPM for fifteen seconds while engine is running
Visit them at www.SafetyFirstUSAInc.com!
"Wednesday's with Wayne"
"Wednesday's With Wayne" is an up close look at the past, present and future of colorful and talented sprint car driver Wayne Johnson. You'll never know what to expect next with Wayne, so don't miss us on Wednesdays!
To receive "Wednesday's with Wayne", send an e-mail to
[email protected]
with"Wayne" in the subject line.
Wayne Johnson Racing would like to thank partners, Todd Carlile, Vern Rengen, Miles with Townline Variety, Russell with Outlaw Wings, Ray with City Vending, Scott with Stone Mountain Access Systems and product sponsors Bill with The Oil Medics, Byron with Sebastian Sandblasting & Powdercoating, Jeff with 517 Design, Shawna and Kaleb with Triple X Race Components, Bob with Rod End Supply, Dave with Astro Titanium, Mark and Doug with Schoenfeld Headers, Desiree at Simpson, Jeannie at Butlerbuilt, Tom at Xtreme Accu-Tach, Carl with Kustom Sprint Car, Brad with Momentum, Charlie with Fisher Racing Engines, Team Achieve and Tim with Canyon Apparel.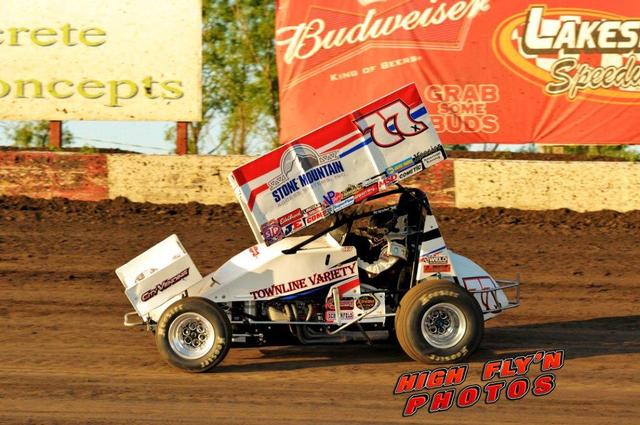 Wayne races at Lakeside (John Lee – High Fly'N Photos)
Bill W Media
Monroe, IA USA
Twitter: @BillWMedia