This message was edited on September 26, 2009 at 04:07:11 PM by Racing From The Past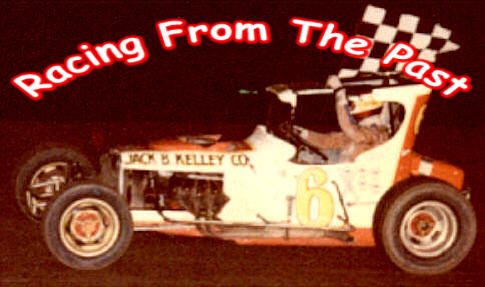 Randy Willingham the "Tall Texan"
In the late 1950's I had a paper route, one of my customers ran a super modified at the Amarillo Speed Bowl. I tended to be drawn to his garage after my papers were delivered. I started helping him, or more truth than not, he allowed me to hang around his garage and around the car at the race track. I pitted on various cars until I was drafted into the Army in 1965. During this time the Southwestern Championship race on Labor Day weekend was drawing quality cars from the Midwest. Some of the ones that raced there were the Welds, the Williams (from KC), Bobby Ward, Johnny Suggs (from Arkansas), Larry Cannon, Harold Leep, etc.
When I got out of the Army, the driver of the car that I had pitted for, Ernie Boynton, had recently died of a heart attack while racing. The owner of the car, Greg Lee (later of Tijuana Taxi fame), said that if I would help him build a sprinter he would let me drive it. We built a car using CAE plans with an injected 289 Ford and my career started at Albuquerque Raceway (1/2 mile), Easter Weekend, 1968. I drove that car until about mid-season when it was sold. I then started driving another super, with an injected Pontiac, there in Amarillo. We didn't set the world on fire, but at times we ran OK in some of the preliminary races. Our season always ended on Labor Day anyway, but my first Labor Day program ended when we totally destroyed the car, thankfully not the driver.
1969
During the winter of 1968-69, the promoter at Amarillo (G.W. Elkins) decided to start a companion class which was to be 100" cars with a 305 ci engine limit, full trans, etc., like the cars that were running in Oklahoma. Since the super that I had been driving had been destroyed the previous Labor Day, I teamed up with Jerry Wise who had a bunch of parts, but not much knowledge about building an open-wheeled car. I think we completed the car without spending much more than 5 or 6 hundred dollars. We used a homemade V-8 quickchange, cross rear spring, Safety Racing wide-5 hubs, Ross steering, and the engine was a Hi-Po 289 Ford with heads by Valley Porting Service heads. We finished sixth in points, winning quite a few heat races, trophy dashes, and one feature. (We were hooked!)
1970
The next year we upgraded the car by adding rear torsion bars and a championship rear end. The Speed Bowl discontinued running sprinters, so the competition got somewhat better. As my skills were improving, along with the quality of the equipment, we finished sixth in total points. That year at the Southwestern Championship we got to race with Leep, Reed, Copeland, McWhorter, Lies, Howerton, Harkness, etc., so as you know, the price of racing was about to get much higher. We traveled some that season to OKC, Lawton, Lubbock, Albuquerque, and Enid. I was now really hooked! Sixth in points again.
1971
NCRA Was Formed
We updated our car by adding disc brakes, open tube rear, and front knock offs. The quality of our engine suffered that year. About mid-season our future turned brighter as we talked a fine gentleman into becoming our sponsor, this man was Jack B. Kelley. We ran four of the NCRA races that year – Amarillo, Lawton, OKC, and Enid.
1972
With the help of our new found sponsor we allowed to spend more money on our engines and tires so we started being more competitive. We won the mid-season championship at Amarillo. We went to a few more NCRA races and we came to the conclusion that if we were to do better we needed a professionally built car. The Jack Walker cars caught our eye so we contacted him about building us a car, and he agreed to do so. After talking to him three or four times, he apologized and told us that he had so much to do that he didn't think he could get us a car done in time. Jack told us that there was a guy out there in OKC that he thought would build us a good car, this guy was Dale Parson. In the back of my mind, I think that move helped Dale get started, because by a few years later there were eight or nine Parson cars at Amarillo. (these could have been Walker's)
1973
In February of that year we went to OKC to pick up our car at Dale's shop, and I was amazed at how nice the car was – all that we had run across was home-made and heavy. Bob Cody had went with us, and on the way home he told me that he had to figure out a way to get one of these Parson cars. He did; that year Cody showed how fast they were and I demonstrated how tough they were. During that year we were invited to come to Tucson and Phoenix for a four day show in June. We went out there and ran against 100" cars that had wings and surprised them by how competitive we were. We ran fourth in their 50 lap championship race, running against their large motors and wings. (some of the ones that were driving the 100 inchers were Ron Shuman, "Tiger" Gene Brown, Jerry McClung, and a driver just starting by the name of Leland McSpadden) Toward the last of the season we started getting our act together and started running very respectably. (Third in the Amarillo NCRA Southwestern Championship race, fourth at the NCRA show in Lawton, and second at the Albuquerque Championships) We also made more NCRA shows, adding Tulsa and the Kansas State Fair. We were making more laps on longer tracks and becoming more comfortable as the weeks went by. Cody won the Amarillo championship, and as usual I was sixth. Maybe I should have selected a smaller number for the car!
1974
In the winter of 1973-74 I think Dale Parson sold two or three more cars in the Amarillo area – the Parson movement was on!
In 1974 we started running anywhere and everywhere we could while holding down a day job. We started racing in early March and kept going until the end of October. We had an excellent year at home – myself, Cody, and Lyndon Moss had some very close races. Cody ended up winning the championship, I was second, and Moss was third. Then came Labor Day, it must have been our time because we won both Saturday and Sunday nights A features and due to bad weather forecasts, it was announced that if Monday's races were weathered out Sunday nights race would be the championship race. Monday the high was about 30 degrees and misting rain, therefore we were declared the winner of the Southwestern Championship with Eugene Hair running second and Moss running third. We ran all of the NCRA races that year with the exception of Tulsa and Hutchinson (thank goodness we missed the fire), and ended up finishing eighth in NCRA points. We had been the first Amarillo car to crack the top ten, plus I had been the first Amarillo driver to win the Southwestern Championship. After the Enid NCRA show, there was a special race at the 3/8 mile asphalt track in Amarillo. We were running against sprinters from the Lubbock area, we put on a hard Jaloney and got lucky and won that race. It was called the Texas Asphalt Short Track Championship.
1975-1976
We continued running the same car as often as we could; both years finishing just outside the top ten in NCRA. We had a couple of second places in the big races, and won a few features at Amarillo and Lawton.
1977
This is the year that I got transferred to Emporia, KS, so we raced the NCRA and weekly shows at 81 Speedway in Wichita – talk about a humbling experience! At once I saw why most of the top NCRA drivers were from Wichita. If you can run up front there, most others are easy. We did manage to win one A feature, plus I found out what a concrete wall felt like head on – we had to stub the right main frame rail, but the old Parson car was back for more in a couple of weeks. John Kalb with Firestone helped us out with tires for the NCRA races. We ran well all year and ended up sixth in both NCRA and 81 Speedway points, and received NCRA's most improved driver plaque.
1978
My final year to own a race car. Since I now lived in Kansas, Jack B. Kelley discontinued sponsoring our car so our lack of funds slowed our racing participation – along with the added responsibility of my job with Santa Fe Trail. We had a few good nights at 81 Speedway that year. In the fall of 1978, I received word at work that I was being returned to Amarillo as manager of the terminal there. Upon arriving back in Amarillo, I talked with Mr. Kelley about future sponsorship – due to his age and declining health, he declined, so I sold the car to Gene Buchanan and it became the # 46.
1979-1981
At the start of 1979, I drove our old car at some NCRA races for Gene Buchanan, and the last part of 1979 started driving the #6 Parson four-bar car that was owned by Evart Isaac. He ran both the Chevy and Ford engine in that car, naturally I preffered the Ford. We did fairly well and had a really good time. In 1982, after a one year layoff from racing, I drove my last race in Evart's Jelly car at the NCRA race at 81 Speedway.
Jerry Wise and I had a partnership from 1969-1978 that turned into a life-long friendship. Jerry passed away in the mid-1990's.
In 1981 Santa Fe Trail ceased operation in Amarillo and I was without employment, so I started my current business, thus deciding to spend my time on the business rather than racing.
Racing was fun and good to me, but it almost cost me the most important thing in my life, which at that time I didn't realize, my family. But an amazing thing happened, I accepted JESUS (Amen Randy) into my life and He restored my family! As of today, my wife Terri and I have been married since one week after my first race in Albuquerque, NM in 1968.
My son Kyle and I found the original # 6 Parson built frame sitting in a used car lot here in Amarillo in December of 2000. We purchased the frame for $50 and are in the process of restoring it to its 1974 appearance courtesy of some photos that we received from Dale Parson that showed the frame in its original state in February of 1973.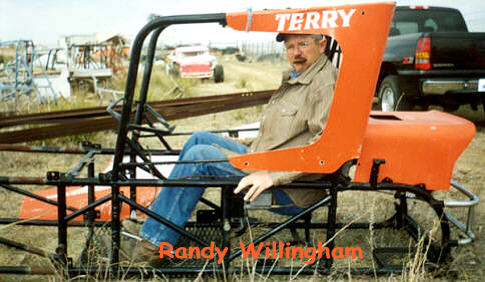 Photo Contributed by Monte Cole.
Randy checking out what's left of Shot Hampton's #94. You know he is probably thinking can't wait to get the #6 back on the track. Randy and son Kyle are restoring the Parson's #6. This editor can't wait to see the return of the #6.
Photo #414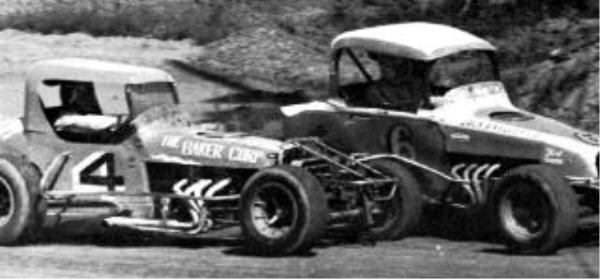 Photo from the 1973 NCRA Yearbook, Van Cook photo.
Randy and Larry Ashlock of Wichita Falls, TX in close quarters at the 1972 Southwestern Championship in Amarillo. Hey Randy, your suppose to clear the car before you do the slide job LOL.
Photo452
Warren Vincent
Cans 4 Kansas Honor Flights