Tulsa OK (August 16, 2016) - The third and final stop for the Ameri-Flex / OCRS sprint cars to perform blistering speed around the Salina Highbanks Speedway in 2016 takes place this Saturday night. The program will also feature the USMTS modified series and racing action is set to fire off at 7pm.
There is a HUGE battle brewing in the chase for the Harold Leep Championship Trophy as Whit Gastineau goes into the Salina event with an extremely slim 18 point point lead over defending Ameri-Flex / OCRS champion Robert Sellers. Sitting in the third position is the the former points leader, Zach Chappell who himself is just a mere 29 points behind Sellers. Needing a little luck to fully get into the mix but within striking distance of doing so, is Sheldon Barksdale, who is only 69 markers from catching Chappell for third.
This weekends event at the Salina Highbanks could be a pivotal point towards the championship chase or it's slightly possible the point race could tighten up even further. With those triple digit heat indexes taking a sabbatical for the time being, it will be a very comfortable evening for outdoor recreational events. For those that still may prefer the comfort of being inside at this point of the summer, the Salina Highbanks has a fantastic VIP indoor area that is top notch. Contact the track for details.
NUTZ n' BOLTZ
East vs West:
For as long as Tulsa and Oklahoma City had their racetracks, it was considered an east vs. west situation when cars from both areas ran together. With each city loosing their tracks over time, the east vs. west rivalry still manages to live on. Sheldon Barksdale has won the prior 2 meetings at the Highbanks this season while Shane Sellers took the lone Salina event last season as 2 events were rained out. Both are 'western' pilots as they hail from the Oklahoma City vicinity. In 2014, 'eastern' drivers took charge as Brain McClelland and Alex DeCamp took the 3 events held at the Highbanks. DeCamp won twice. Thus in the last 6 outings at the Highbanks, its a draw. Will it be west holding court again or will east be the beast?
Going for the Three Pack:
Sheldon Barksdale will be gunning for his 3rd straight win in a single season at the Salina Highbanks. Should Barksdale accomplish the trifecta, the man with the most victories in the Ameri-Flex / OCRS series this season (5) would accomplish this remarkable feat since....... Nobody. They say there's a first time for everything. Will he do it?
Somebody Get This Monkey Off My Back:
Zach Chappell took the lead in the point standings with a runner-up finish to Barksdale at Salina on May 14th. The next week, Chappell won at the Longdale Speedway. In the next four events, of which the last of those four was back at Salina on July 9th, Chappell was never out of the top five. Since then, Chappell has fallen on hard times with finishes of 8th, 12th, 10th and a blown motor in a heat race that sidelined him the rest of the night at Lawton Speedway on July 30th. He fell to third in points after that night. Chappell may roll into Salina with 4 leaf clovers and rabbits feet stuffed in his pockets. Either that or he will have a bowl of Lucky Charms before he hits the racing surface.
As We Addressed Last Time:
In the last Nutz n' Boltz column leading into the July 30th event at Lawton, we mentioned that Gary Owens does his share of winning for the part-timer that he is. We stated: "Should Owens win an A-Feature with the remaining events left, he will extend his streak to four years in a row with victory lane hardware". It was a late night due to Mother Nature but Owens wasn't looking at the clock as he proceeded to win the Ameri-Flex Hose & Accessories A-Feature. Next year its the "Drive For Five".
Get Ready..... It's Coming:
It's been the talk of the season and the Ameri-Flex Challenge is oh so close. The good news for the fans of the Salina Highbanks is you dont have to miss it. The $5,000 to win dash race (15-laps) is on September 3rd at the Caney Valley Speedway and the Salina Highbanks is off that night. There will also be a complete sprint show on the program as well. We are looking forward to seeing everyone pack the stands for the Ameri-Flex Challenge on September 3rd!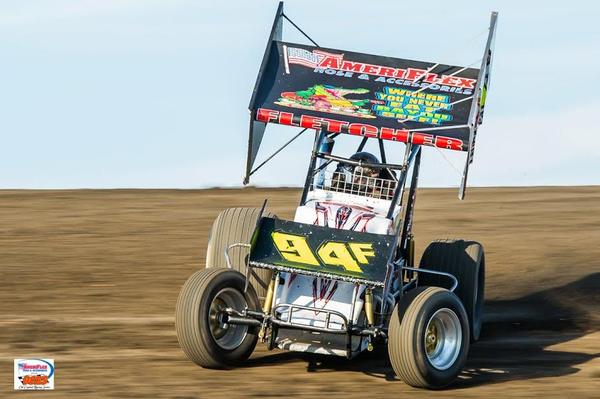 Morgan Fletcher Grinding The Highbanks / Kent Bergman Photo
The things you need to know to come FEEL THE THUNDER.........
What: Ameri-Flex / OCRS Sprint Cars + USMTS Modifieds
When: Saturday August 20, 2016
Where: Salina Highbanks Speedway / Salina Oklahoma
Time: Gates open at 5pm (pit gates 3 pm) / Hot laps at 6:30pm / Racing begins at 7pm (OCRS drivers meeting at 5:45pm)
Tickets: Adult General Admission: $20 / Seniors: $15 / Kids: $10 (6yrs & under free) / Pit Pass: $35
Vip & Beer Garden Reservations: Contact David Edwards at: (918) 864-7337
Location: Racetrack sits directly on Highway 20 between Pryor and Salina.
Track Phone: (918) 434-RACE (7223)
Track Website: www.salinahighbanksspeedway.com
About the Ameri-Flex / OCRS Series -
Established in 2002, the Tulsa OK based Ameri-Flex / OCRS series sanctions dirt track sprint car racing in the southern region of the central plains. Fan appeal and quality race teams, combined with our solid core of supporting sponsors are the nucleus of the series. Thrilling competition providing the ultimate quality family entertainment is the essence of what the Ameri-Flex / OCRS series is all about.
Website: www.ocrsracing.com
Facebook: www.facebook.com/oil.series

About Ameri-Flex Hose & Accessories -
Located in Tulsa OK, Ameri-Flex Hose & Accessories is a family owned and operated company. From food grade hose to hoses for the petroleum industry, Ameri-Flex will strive to fill your needs. Ameri-Flex can build a hose to your specifications or we will assist you in creating what you have designed while you wait. Ameri-Flex has several hard to find items that some vendors can't get or find. Product can be shipped quickly and efficiently. If we do not have what you are looking for, we will direct you on where to find it. Give us a try, after all…………..
Ameri-Flex Has The Stuff That Keeps You Going!
Website: www.ameriflexhose.com