BREAKING NEWS
RacinBoys Announce Exciting New Live Racing Show for 2018
12/9/2017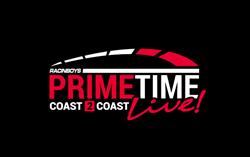 (Indianapolis, IN) -- RBN, The RacinBoys Broadcasting Network announced exciting plans during this week's PRI show of a brand new and unique national program covering grassroots racing as it's happening every Friday and Saturday night.
"PRIME TIME Live Coast-to-Coast" debuts the first weekend of April and runs through September and will feature correspondent reports and Live cut-ins from racing events across the country.
Scott Traylor and Kirk Elliott will anchor the several-hour long show each Friday and Saturday night, and it will be offered FREE of charge on RacinBoys.com as well as Facebook Live and other social network platforms.
All forms of racing will be covered including Sprint Cars, Late Models, Modifieds, Drag Racing, Off Road, Dirt, Pavement and much, much more.
-
In addition to his duties hosting "PRIME TIME Live Coast-to-Coast," Traylor will be on the road for the tenth straight season anchoring the Lucas Oil ASCS National Tour Live broadcasts on RacinBoys.
"We've been working on this idea for several years now," says Traylor, President of RBN. "We feel now is the time to debut PRIME TIME Live Coast-to-Coast. This is the first show of its kind, and we're looking forward to promoting grassroots racing by creating awareness for tracks, series and our friends in the industry who originate live broadcasts around the country."
RacinBoys will have the rights to dip in on some Pay Per View broadcasts so listeners can get a feel of the live action going on.
If you're interested in becoming a Live correspondent or having your track or series be a part of Prime Time Live Coast-to-Coast, contact the RacinBoys at [email protected]
-
ABOUT RACINBOYS –
RacinBoys, founded by Scott Traylor and Kirk Elliott in 2003, is an internet Broadcasting Company covering all forms of motorsports. RacinBoys produces weekly radio shows on Sports Radio 810 WHB, ESPN Kansas City and website RacinBoys.com. RacinBoys also provides Live video and audio coverage of series and racing events including the Lucas Oil ASCS National Sprint Car Series, Lucas Oil Tulsa Shootout and Lucas Oil Chili Bowl Midget Nationals. For more information, go to http://www.RacinBoys.com or e-mail [email protected]
RBN The RacinBoys Broadcasting Network
http://www.racinboys.com/