FOR IMMEDIATE RELEASE
USAC West Coast Sprint Car Series
USAC Western Classic Sprint Car Series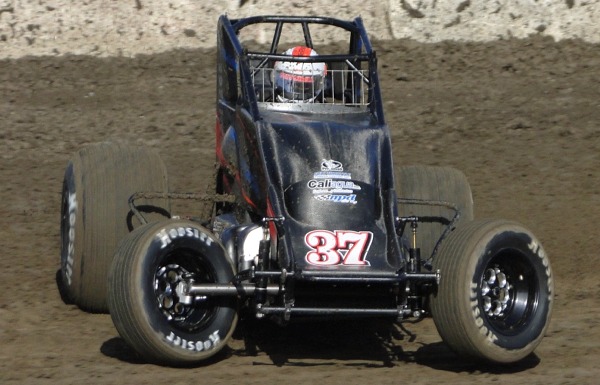 #37 Matt Mitchell wins at Watsonville's Ocean Speedway.
MATT MITCHELL ADDS OCEAN SPEEDWAY TO WIN LIST
By Lance Jennings
WATSONVILLE, CA – AUGUST 11, 2014... Taking the lead from Brody Roa with a last lap "slide job," Yorba Linda's Matt Mitchell claimed the Friday night victory at Ocean Speedway. For Mitchell, the $1,500 triumph was the first USAC West Coast & Western Classic series win for the veteran driver. Roa, Richard Vander Weerd, Marty Hawkins, and Ryan Bernal followed Matt to the checkered flags.
Racing his #37 MPD Racing / ART Enterprises Maxim, Matt Mitchell became the 33rd driver to claim a USAC West Coast feature and the 25th racer to earn a Western Classic victory. The USAC/CRA standout qualified fourth overall out of the twenty-two car roster and ran third in his heat race. With the victory, Mitchell left Watsonville with the USAC West Coast point lead.
Huntington Beach's Brody Roa led 28 laps of the main event but had to settle for second. Piloting the BR Performance #91R HD Industries / Burris Racing Maxim, Roa briefly lost the lead to Ryan Bernal on lap 14 and quickly regained the top spot from the Western Classic point leader. The former Wagsdash Champion was sixth fast in time trials and placed fourth in his heat race.
Richard Vander Weerd of Visalia charged to third at Watsonville after starting eleventh. Driving the family owned #10 Vander Weerd Construction / Battery Worx Maxim, Richard qualified eleventh and won the 10-lap Deist Safety Heat Race #2.
Santa Rosa's Marty Hawkins claimed fourth in the Ocean Speedway main event. Piloting his #3M Susie's Bar / Vermeil Wines Maxim, Hawkins was third quick in time trials and ran second to Austin Liggett in his heat race.
Ryan Bernal of Hollister held the lead for one lap before scoring fifth at the checkered flags. Racing Mike Phulps' #56 Core Power Metal Works ART, Bernal earned the night's Woodland Auto Display Fast Time Award and ran second to Nic Faas in his heat race.
Oakdale's Jeff Sibley earned his second Keizer Wheels / Racing Optics "Hard Charger / Best Passing Job" honors with a tenth place run from nineteenth. Driving the new family owned #42N Haidlen Ford / Western Plumbing Spike, Sibley qualified nineteenth overall and scored seventh in his 10-lap heat race.
Nic Faas of Huntington Beach won the night's 10-lap Extreme Mufflers Heat Race #1. Piloting Keith Ford's #73X Berry Pack / King Racing Products Spike, Faas was seventh fast in time trials and scored sixth in the Watsonville feature.
Tracy's Austin Liggett claimed the Saldana Racing Products / Weld Racing Heat Race #3 victory by a large margin. Racing the family owned #83 Excel Environmental / Home Connections Inc. Spike, Liggett qualified ninth overall and took seventh in the feature after starting ninth.
The USAC West Coast Sprint Car Series thanks Amsoil, Hoosier Tire, Chris Kearns Presents, Competition Suspension Inc., Deist Safety, Engler Machine & Tool, Extreme Mufflers, Five Star Grafix, Keizer Wheels, Pyrotect Racing Cells, Racing Optics, Rod End Supply, Rugged Radios, Saldana Racing Products, SouthWest Contractors, VanLare Steering Repair, Weld Racing, and Woodland Auto Display for their support. If you or your company would like to become part of the series, email PR Director Lance Jennings at lwjennings@earthlink.net.
For more information, visit www.westcoastsprintcars.com, www.usacracing.com, follow the series on Facebook (www.facebook.com/#!/pages/USAC-West-Coast-Sprint-Car-Series/369549755817), or Twitter (www.twitter.com/USACwc360). Mike Truex's Loudpedal Productions has DVDs available for purchase that feature the USAC West Coast Sprint Car Series. For more information, call 805.407.7229 or visit www.loudpedalvideo.com.
-----------------------------------------------
USAC WEST COAST & WESTERN CLASSIC SPRINT CAR RACE RESULTS:
August 8, 2014 – Watsonville, California – Ocean Speedway
WOODLAND AUTO DISPLAY TIME TRIALS:
1. Ryan Bernal, 56, Phulps-12.832; 2. Markus Niemela, 73, Ford-12.911; 3. Marty Hawkins, 3M, Hawkins-13.057; 4. Matt Mitchell, 37, Mitchell-13.116; 5. Danny Faria Jr., 2, Bowman-13.147; 6. Brody Roa, 91R, BR-13.155; 7. Nic Faas, 73X, Ford-13.167; 8. Landon Hurst, 179, Hurst-13.176; 9. Austin Liggett, 83, Liggett-13.186; 10. Austin Stone, 29X, Coffman-13.195; 11. Richard Vander Weerd, 10, Vander Weerd-13.237; 12. Jace Vander Weerd, 88, Vander Weerd-13.248; 13. Trevor Schmid, 2X, Schmid-13.399; 14. Tyler Schmidt, 49, Schmidt-13.452; 15. Koen Shaw, 88K, Shaw-13.482; 16. Tim DeCarlo Jr., 5, DeCarlo-13.497; 17. Kyler Shaw, 92, Shaw-13.668; 18. Bruce Douglass, 13, Davis-13.872; 19. Jeff Sibley, 42N, Sibley-13.939; 20. Scott Hall, 77J, Campanile-NT; 21. Kevin Barnes, 36B, Barnes-NT; 22. Eric Rossi, 17, Shanoian-NT.
EXTREME MUFFLERS HEAT RACE 1: (10 laps)
1. Nic Faas, 2. Ryan Bernal, 3. Matt Mitchell, 4. Trevor Schmid, 5. Tim DeCarlo Jr., 6. Austin Stone, 7. Jeff Sibley. NT
DEIST SAFETY HEAT RACE 2: (10 laps)
1. Richard Vander Weerd, 2. Danny Faria Jr., 3. Markus Niemela, 4. Kyler Shaw, 5. Landon Hurst, 6. Tyler Schmidt. NT
SALDANA RACING PRODUCTS / WELD RACING HEAT RACE 3: (10 laps)
1. Austin Liggett, 2. Marty Hawkins, 3. Jace Vander Weerd, 4. Brody Roa, 5. Koen Shaw, 6. Bruce Douglass. NT
FEATURE: (30 laps – With Starting Positions)
1. Matt Mitchell (3rd), 2. Brody Roa (1st), 3. Richard Vander Weerd (11th), 4. Marty Hawkins (4th), 5. Ryan Bernal (6th), 6. Nic Faas (7th), 7. Austin Liggett (9th), 8. Jace Vander Weerd (12th), 9. Kyler Shaw (17th), 10. Jeff Sibley (19th), 11. Bruce Douglass (18th), 12. Tyler Schmidt (14th), 13. Trevor Schmid (13th), 14. Markus Niemela (5th), 15. Tim DeCarlo Jr. (16th), 16. Austin Stone (10th), 17. Scott Hall (20th), 18. Koen Shaw (15th), 19. Landon Hurst (8th), 20. Danny Faria Jr. (2nd), 21. Kevin Barnes (21st). NT
----------------------------
**Landon Hurst, Tim DeCarlo Jr., and Scott Hall flipped during the feature.
FEATURE LAP LEADERS: Laps 1-13 Brody Roa, Lap 14 Ryan Bernal, Laps 15-29 Brody Roa, Lap 30 Matt Mitchell.
KEIZER WHEELS / RACING OPTICS HARD CHARGER: Jeff Sibley (19th to 10th)